In architectural aluminium, colour is now very widely used and forms the basis of many a modern building, shop, school and in the home. It is common to see very bright powder coated aluminium used in buildings such as primary schools, kindergartens and so forth where bright colours give an image of happiness for example.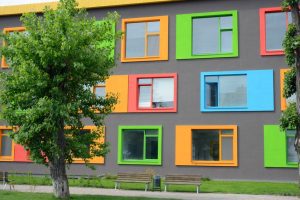 In other buildings that are more corporate or contemporary darker sober colours such as grey may be used.  Here the choice of powder coated aluminium to windows, doors or curtain walling will be important in reflecting the image of the company that uses the building. Whatever the building, colours play an important part in setting a theme.
Powder coated colour charts detail over 400 different colours.
How do architects or clients choose the right one?
It is not just the different colours that give the customer choice. The hundreds of colours that are available to powder coat architectural aluminium are also available in gloss, satin or matt which further extends the choice. How does anyone choose the right colour? It can only be done with the correct colour reference.
Colour references vary depending upon manufacturer of the paint. There are several polyester powder manufacturers in the UK and globally such as Interpon, Syntha Pulvin, Tiger, IGP, Exalta and other.  
For example, Interpon Paints use RAL References such as RAL 9010 white gloss or RAL Grey 7016 Matt. Syntha Pulvin Paints use more detailed references such as M4L0367 for RAL7016 Matt or M4A0395 for the equivalent of RAL 9010 white gloss.  British Standards References are also used. BS08B29 is a brown powder coated finish that has for many years been the industry standard "VanDyke Brown".
There are some very good reasons why RAL colour references are important.
The primary reason for needing references on paint is that descriptions can be subjective. A very good example is "Pillar Box Red" that is often specified by architects to match the traditional British pillar box, but what is the true red colour for Pillar Box Red?
With over 25 shades of red available, working to a reference ensures there is no confusion that a description may bring rather than an actual reference that everyone can work to.
The second reason is continuity. If for example, there is an ongoing construction of a building, it is common that during the build any powder coated material will be painted in stages rather than all at the same time.  Similarly, there may be requirements for additional windows or conversion or existing screens or doors after the building is completed and handed over.  
If the correct reference is used throughout the build and after, using the same manufacturer of powder and the same colour reference ensure all the colours will match even if painted many months or years apart.
The correct use of references and the knowledge of the correct powder manufacturer will also help your powder coater to coat materials consistently and to the correct shades every time.