The use of vibrant colour in the architectural powder coating of aluminium is becoming more widespread. Powder coaters report the use of increased colour choices moving away from the typical white, black or grey and shifting towards more vibrant colours such as yellows, reds, blues and greens.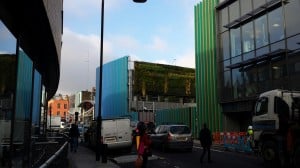 An excellent example where Superior Paint and Powder coating utilised their experience in architectural powder coating is the well known MTV Studios in Camden, North London.
The MTV Studios are one of the best known buildings in North London
In the refurbishment of this iconic building, a wide use of colour was chosen in the brise soleil, the curtain walling, glazed atrium and windows.
In this project that consisted of a large amount of powder coating of aluminium and steel, several vibrant and dominant colours were used such as red, yellow, green and blue.
Morgan Sindall a leading building contractor was awarded the contract to refurbish the MTV London Studios which upon completion resulted in new studios and refurbished and additional office space.
To further complement the wide use of powder coated aluminium extrusions painted by Superior Paint and Powder coating a green wall was constructed in consultation with Kew Gardens. Here Biotecture created a natural and geometric wall spanning three elevations. This wall from natural plants added significant visual impact to the building and complemented the vibrant colours of the powder coated aluminium and brise soleil extrusions perfectly.
Curtain walling, window and roof bar extrusions used were powder coated by Superior Paint and Powder Coating.
Working in partnership with the curtain walling manufacturer and installer, all key aluminium extrusions were powder coated in their modern powder coating plant and delivered to the client fully protected and ready for fabrication and installation.
Superior have been involved in the provision of finished aluminium extrusions to many well known and high profile buildings throughout London and the UK. Their client base consists of leading manufactures and installers of curtain walling, windows, doors, glazed screens and atriums.
In the redevelopment of the MTV Studios in Camden, London they played a part with the entire construction team to redevelop a famous and well known landmark building.