Superior Powder Coating were pleased to work in partnership with leading curtain walling contractor Structura UK Limited in the refurbishment of prime central London property.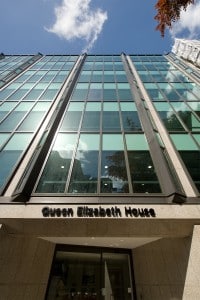 Queen Elizabeth House, St Dunstans Hill is now home to the Soldiers' and Sailors' Families Association  (SSAFA) the UK's oldest Armed Forces Charity.
Substantial curtain walling material was powder coated in a bronze colour by Superior Paint and Powder Coating.
Queen Elizabeth House is a desirable central London office building. Spanning 7 storeys it is situated in a most desirable location just 100metres from the River Thames, and within walking distance of other London landmarks such as Monument, Lloyds Insurance Building, The Tower of London and Fenchurch Street.
A unitised curtain walling system was fabricated and installed buy Structura UK Ltd from bar lengths expertly finished and powder coated by Superior. The bronze powder coated architectural aluminium blends in with colour matched aluminium insulated panels to create angular facets.

These facets house opening aluminium casement windows that provide the ventilation into the main office spaces.
The curtain walling installed into this 26,000 sq ft building was part of a major refurbishment programme that included amonst its works, new air conditioning, modern lighting, raised floors, improvement and achievement of a BREEAM rating, two new passenger lifts and more.
Critical in the refurbishment was an improvement in natural light.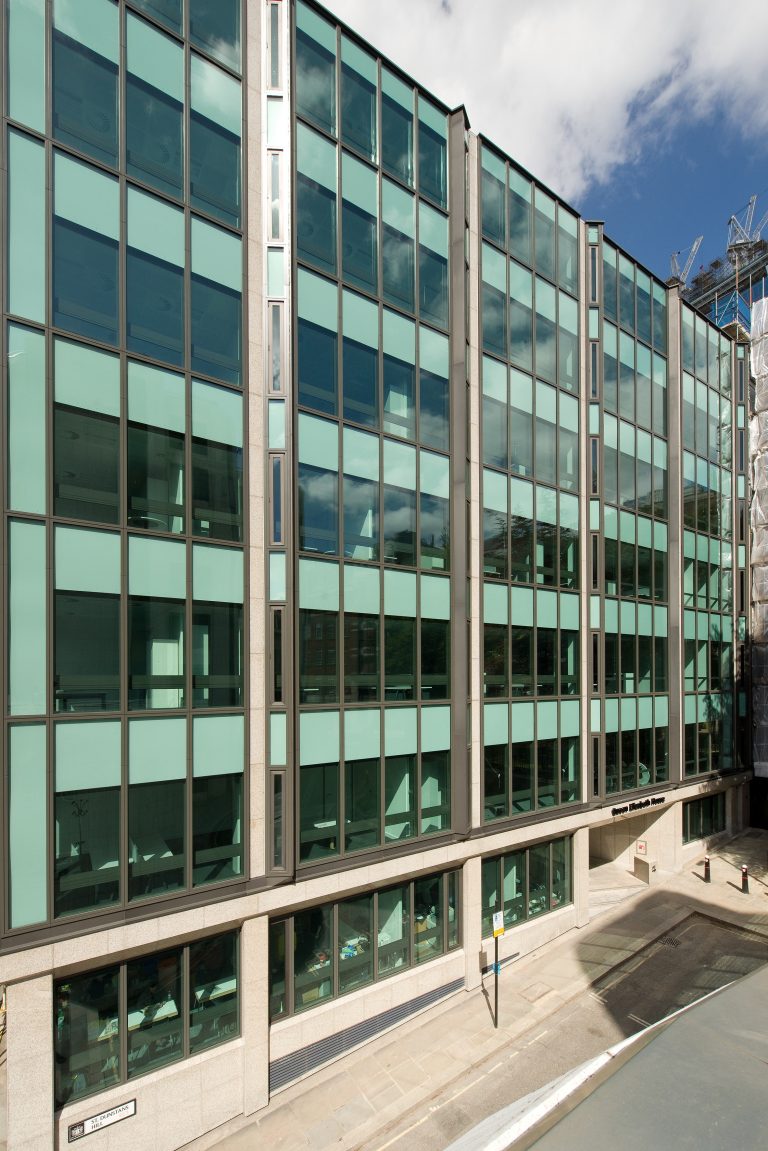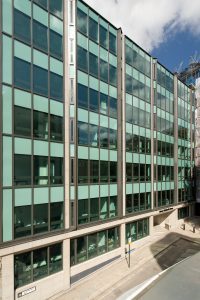 The fabrication and installation of Unitised Curtain Walling as opposed to the more traditional stick arrangement enabled all floors to benefit from floor to ceiling glazing that not only gave the building the much needed natural light but also improved the views of this prime London location.  Over 150 unitised powder coated and glazed curtain walling panels were used in the refurbishment of the building.
The building occupants are now able to enjoy fantastic views towards the recently constructed Shard as well as Tower Bridge, St Pauls Cathedral and other famous London attractions.
The entire external facade of Queen Elizabeth house was replaced including new doors, ground floor framing, windows and glass.
The glazing element comprises standard high specification double glazed units but with the addition of glazed spandrel panels in a contrasting silver opaque colour.  These spandrel panels not only add aesthetic appeal to the external curtain wall but also do the important job of masking parts of the building such as floors and steelwork that would otherwise be visible from the outside.
Superior Paint and Powder Coating have a long standing and excellent relationship with Structura UK, one of the leading curtain walling installers in the UK today. They continue to work in partnership in transforming old and new buildings with sophisticated powder coated curtain walling systems, aluminium panels, windows and doors.