Polyester colour coated aluminium offers designers and architects complete design freedom, allowing colour to be applied to architectural aluminium, steel and other metals.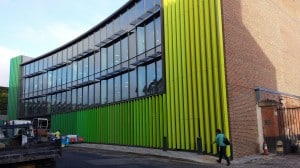 Let Superior Paint and Powder Coating explain how powder coating is best.
Polyester powder coating now brings a huge choice to the finishing of architectural aluminium and steel. With technology in powder coating advancing and becoming more cost-effective the range of options is set to increase further.
Polyester powder coating allows architects to enjoy a freedom to utilise paint effects as well as colour to enhance the look of buildings.  Not only is there virtually unlimited colours but special effects such as gloss, satin and matt are available. Which along with applying textures and metallic effects can create some stunning profiles.
There are many polyester powder manufacturers collectively ensuring a wide choice of colours.
Textures in particular give a dramatic effect to the surface of aluminium profiles and an appearance all of its own.  Which is largely why polyester colour coated aluminium is the preferred choice for designers and architects.
Effective powder coating in a single layer.
Unlike other forms of finishing that can require several coats to be applied, polyester powder coating needs just one coat and one application.  At the same time this single coat of polyester powder paint not only gives a 15 or 20 year guarantee and sometimes more.
This single application will also protect against weather, chlorine and other contaminants. Should the powder coating ever need touching up or repairing, only a small amount of touch up paint is ever required.
Environmentally Friendly Colour Coated Aluminium
With powder coating technology today being very advanced, powders are environmentally friendly and allow for many items to be coloured some that would be deemed unsafe for use in other paint finishes.
Superior Powder Coating have been expertly powder coating aluminium and other metals for the architectural aluminium and related industries for many years. and offer a wide range of powders, exceptional paint quality and high standards of service.