RAL colours are now widely used in the UK for polyester powder coating and arguably the most popular term of reference for choosing a colour for architectural aluminium.  RAL colours come with history behind them and in this article we will explain in more detail how RAL powder coated colours are structured.
The RAL designation for colour is now over 90 years old.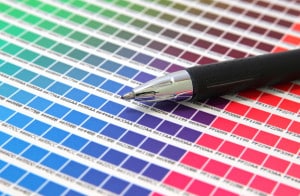 Whilst polyester powder coating itself is only about 40 years old, colour has been used for several hundred years.  The RAL standard originates from Germany.  In the early 1900's the private sector and working with the German government adopted a new standard called Reichs Ausschuss für Lieferbedingungen" or RAL.
The first RAL colour chart only consisted of about 40 colours, but today there are over 200 RAL colours that are widely used in the powder coating of architectural aluminium in the UK.  It is believed that the complete RAL chart actually lists 2000 colours but this is obviously not used in architectural aluminium as the colour choice for normal powder coating would simply be too great.
How are RAL colours designated and decided?
The first digit of the RAL four digit colour code designates the colour "group" as for simplicity, groups of colours were decided.  These are still in use to this day as follows:
The complete RAL colour standard now contains approximately 2000 shades but it is a small sub section of RAL colours (approximately 200 shades) designated RAL CLASSIC which are commonly used in powder coating in the UK.
How are RAL Powder Coated colours designated?
Each RAL CLASSIC shade is designated by a 4 digit numerical code e.g. RAL 6005. The RAL shades are organised in groups of colours as follows:
RAL 1xxx Yellow Approximately 40 shades
RAL 2xxx Orange Approximately 14 shades
RAL 3xxx Red Approximately 34 shades
RAL 4xxx Violet Approximately 12 shades
RAL 5xxx Blue Approximately 25 shades
RAL 6xxx Green Approximately 36 shades
RAL 7xxx Grey Approximately 38 shades
RAL 8xxx Brown Approximately 20 shades
RAL 9xxx White and Black Approximately 14 shades. This also comprises RAL9006 and RAL9007 shades that are Metallic finishes and not black or white.
It is also worth nothing that the vast majority of the above colours are also available in satin, matt or gloss shades that further adds to the colour choice and variety for the powder coating or architectural aluminium.
There are other powder coating references used in the UK today. These are:
RAL, Syntha Pulvin, BS 4800, NCS and Pantone, however RAL references remain the most popular.