Superior Paint and Powder Coating have recently completed the first phase of our ambitious investment programme for the very latest in  polyester powder coating technology.
We are committed to moving our business forward to not only providing customer with the very best in high quality powder coating and service but also to be environmentally responsible in everything we do.
We have now installed the latest generation automated powder coating booth by market leaders Gema.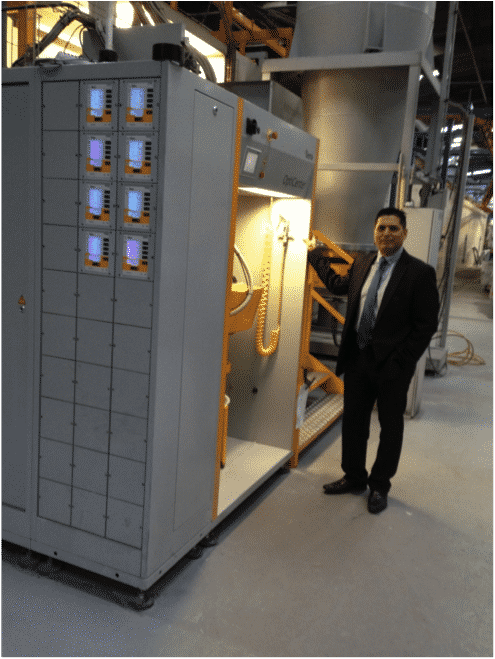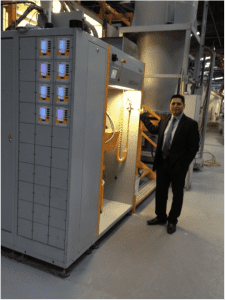 Superior Paint and Powder coating already offer a comprehensive and complete powder coating service to architectural aluminium bar length aluminium and other metals.  This is also enhanced by the provision of aluminium panels, aluminium cladding, bespoke pressings, stock aluminium extrusions and rainwater goods.
As our business has grown through exceptional service and customer care it has become necessary to commence an ambitious investment programme to keep our company ahead of the game in polyester powder coating.
Our Managing Director Bill Singh says:
As our business has evolved we have made incremental investments to stay ahead of the curve in relation to the powder application equipment and technologies.

In 2008 we invested in the OptiFlex1 hand gun technology which delivered significant performance improvements over our previous technology.

Having understood the benefits available from the OptiFlex1 range we made a further investment in 2011, retrofitting our automatic booth with the eight OptiFlex automatic guns.

With the release of the new OptiFlex2 gun generation we took a view to upgrading our technology and capturing the benefits on offer through the new product innovations as well as incorporating a fast colour change solution.
Over the years Superior has consistently looked at ways of improving its service.
We have constantly communicated with our diverse customer base comprising aluminium systems companies, window and curtain walling manufacturers and the construction industry.  We wanted to invest in a powder coating booth that would give us speedy and accurate colour changes where required as well as retaining our existing facility to ensure no disruption occurred to our day to day operations.
A very challenging task lay ahead in removing our old paint line and installing our new high technology booth whilst continuing to trade and powder coat our products day to day. All this was completed within one week.
It is not just a high quality service we wish to provide.  As well as working to provide best in class polyester powder paint finishes, we operate a continuous improvement initiative.  Our focus remains reducing waste and working to optimise an environmentally friendly and safe working environment.
Our ambitious and self funded investment programme will benefits to our customers and our business such as:
Improvements in the high standard of product finish across our large product range
To double our coating capacity and our ability to meet increasing customer demand
Reduce our turnaround times to meet more demanding customer requirements
Improve efficiencies in terms of processes, efficiency and environmental aspects