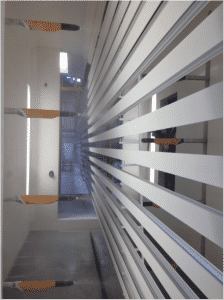 Ongoing investment by Superior Paint and Powder Coating Ltd is providing customers and the construction industry with the very best in powder coating technology.  The latest phase in this investment plan saw the installation and commissioning of new state of the art powder coating plant.
Powder coating technology continues to evolve.  It is a forty year old process that now dominates the finishing of architectural aluminium for windows, doors, curtain walling and metal construction materials generally.
Why invest in the latest powder coating technology?
Superior Paint and Powder Coating has a clear vision to be the very best at what they do.  This vision has a strong emphasis on quality, plant automation, increased capacity and operational efficiency.
Even though it was possible to continue serving customers with the existing factory machinery Superior have set out on a substantial programme of investment.  This investment enables them to continue to grow and meet the needs of a growing customer base.  The purchase of new powder coating plant is just one part of this process.
The substantial growth of aluminium as a material in domestic windows and doors has also played a part.
Aluminium windows and doors have been gaining market share for many years now as the general public looking for new windows and doors is learning how much better aluminium is compared to upvc or timber products.
This has meant growth in business through the increased demand for aluminium windows and door.
With this in mind and a desire for better service and greater efficiency, the Gema Magic Booth system offered the perfect solution.
Bill Singh, Managing Director of Superior Paint and Powder Coating says:
The new Magic Compact EquiFlow³ system was the first of its type in the UK, and benefits from many innovations released in 2014, particularly the new GA03 guns which operate on the same powder charging platform as the OptiFlex2 technology.

Because of the diverse product geometries, part complexity and wide range of colours the system specified had to be extremely flexible, and at the same time deliver first class coating standards efficiently. In conjunction with the Magic booth the latest generation OptiCenter© was also provided.  This takes application efficiency and colour change technology on to a whole new level, the system produces virtually zero waste and operates within a totally enclosed environment with no powder loss throughout the fluidisation process.

We now have a powder coating process and system that is quiet, very quick and is a new modular concept for integrated powder management.
Colour changes can be carried out within 6-12 minutes!
With over 200 colours available and even more given the number of powder manufacturers Superior work with, changing the colour on a paint line has always been a factor for all powder coaters.
This new machinery with high degrees of automation that gives overall powder utilisation is in excess of 95%.  This is a significant improvement over previous powder coating booth. The system benefits from state of the art automation meaning that it is possible to create and store programs for each powder coating job.  Another advantage is minimal manual intervention during the coating process.
What does this mean for existing and new customers?
Not only does this investment in the latest powder coating machinery give Superior exceptional coating results, it is also more economic.  Waste is reduced substantially more than before and it is possible to get more out of a standard box of powder.
If you are looking for a reliable, experienced and highly competent company specialising in polyester powder coating contact Superior to see how they can work with your business.