Aluminium windows, doors, curtain walling and aluminium framing are mostly polyester powder coated today.  Powder coating is now the preferred way of finishing metal windows and doors.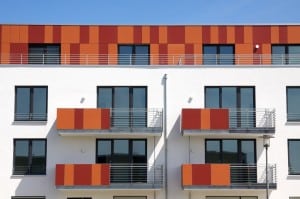 The powder coating of aluminium window products is a sophisticated one, calling for a sophisticated process of pretreatment, cleaning and painting.  The powder coating process produces a painted metal window of superior paint quality that is designed to last in many types of environments.
How are powder coated windows coated?
The aluminium window is painted well before it comes into contact with any part of the manufacturing process.  The coloured aluminium windows you see today have been painted at the start of the manufacturing process with the aluminium extrusion has come out of the extrusion plant and is a 5 or 6 metre aluminium bar.
These bars are powder coated before any fabrication is carried out to create a finished window.
In powder coating aluminium windows a polyester "powder" is used, hence the term powder coated windows.
Finely divided polyester powders are used which are given a polarised electric charge from a high voltage generator.
These powder particles, being similarly charged repel each other and seek an earth to bond to.  This earth the aluminium bar being painted.
Once the powder has been applied, aluminium bars are heated to 200°C for a short period of time.  This enables the powder to melt and correctly react to form a high quality and durable continuous film.  This film is firmly bonded onto the aluminium.
The Powder coating process provides the best coverage on aluminium window and door frames.
Electrostatic coating as this powder coating process is also known is widely regarded as providing the best coverage.  The powder will wrap itself around the aluminium bar and coat every surface whether that surface is seen or unseen.
Polyester Powder coated colours today are chosen from various "colour ranges" used in construction.  These colour ranges are extensive giving wide colour choice as well as colours available  in matt, satin or high gloss finishes.
All powder coated windows must meet specific industry standards.
To obtain the maximum service life from your aluminium powder coated windows and doors you must ensure your powder coater is Qualicoat Approved.  Qualicoat Approved applicators meet the highest standards laid down for powder coating and meet the requirements of British Standards BS6496 and 6497 across the full range of colours.