In most buildings you will see metal components that are coloured in some way. These will usually have been polyester powder coated.  Whilst the finished colours look great it is the Pretreatment of Aluminium before powder coating that is most important.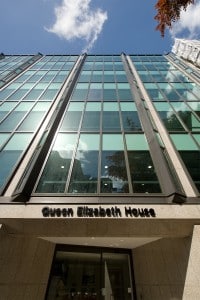 Polyester powder coating is applied to doors and windows, curtain walling, aluminium panels, building fascias, column casings, metal gutters and much more. But how do these metal components survive on the external face of a building and provide many years of service in daily use?
It is architectural powder coating that enables metal to be coloured.
With advances in powder coating technology all kinds of metal building components can be painted with a durable paint finish that will give decades of weather protection and ensure a building looks good for years to come.
In order for a durable and high quality coating to be applied, pretreatment is critical. Before any company can be approved as an approved powder coater of aluminium profiles they have to be quality approved by not only the industry bodies but also by the powder manufacturers.
Not everyone can be a powder coater.
To be a quality powder coater of architectural aluminium extrusions it requires the setting up of sophisticated pre treatment and paint lines as well as the correct post painting curing process to ensure the quality of the finished metal is up to standard and will provide the durability expected of it.
There are many leading polyester powder manufacturers and Superior Paint and Powder Coating ltd are very proud to have approval from all.  These manufactures all offer a huge range of colours. With the colour choice further extended but the choice of satin, matt or gloss shades, customers today have a wider choice than ever before in what colour will best suit their project.  But the success of any coated metal profile will depend entirely on the quality of the pre treatment, the coating itself and the curing process after.
This is why it is important to use an approved powder coater.
When dealing with a small component that needs painting some window manufacturers have been known to wet spray it with a can of paint, or have it painted at a local body shop.  This can cause problems in the future and we recommend that only approved power coaters are used.  Only approved powder coaters have the plant, pretreatment and systems in place to ensure that the finished profile will meet the required British, European and other quality standards.
What is the powder coating process?
The powder coating process generally comprises three separate parts but each as important as the other.
Pretreatment ensures that the metal is adequately prepared to ensure that the powder adheres correctly to clean and prepared metal and will give the durability that will be expected.  The pretreatment process can involve either spray or immersion cleaning that must ensure metal is clean, surface etched and that any defects do not show through the coating.  All stages in the pretreatment process require suitable rinsing of the material before the next process is carried out.
Powder Application once material is suitably cleaned is by electrostatic spray.
There are a variety of different machines that apply powder but in all cases it is dry powder through air guns that is fed whilst at the same time giving an electrostatic charge to the powder particles. It is this charge than enables the powder to bond to the metal profile.   Modern paint plants today can control how much powder is applied as well as helping control waste by collecting and recycling any powder that is over sprayed.
Curing takes place once the powder has been applied through heating of the metal profile. This ensures the polyester bonds to the metal surface. With aluminium profiles in particular available in so many different thicknesses, the curing process needs to be adjusted accordingly to suit the thickness of the aluminium being cured. This is because different thicknesses of metal will take different time to reach the required curing temperature.
Following the coating process the material will be suitably wrapped and protected ready for shipping to the manufacturer or installer.