The Atoll Shopping Centre in France is one excellent example where powder coating plays a key part in the visual appearance of a building.  Constructed as the first eco friendly retail centre it is a 92000m2 building and is credited with being the largest private construction project of its kind carried out in the country.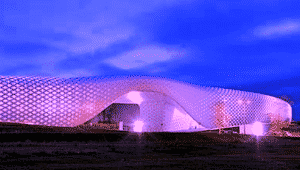 The special design of this building and the retail experience it offers comes from its futuristic design that provides covered shopping but with an open experience.  The restaurants for example whilst found in the centre of the shopping centre offer the choice of internal or al fresco dining with the way the building has been designed.
What main powder coated colour was used?
Grazalema 2525 YW266F was the chosen colour for the building.  This is a metallic finish, often used in architecture and especially suitable for windows, doors, curtain walling and cladding.  We know this colour is also very popular in constructing winter gardens, railings, sunshade systems, Brise Soleil and shutters.
Interpon is the powder manufacturer of Grazalema 2525 YW266F under the Futural Collection of polyester powders.  It can be ordered under powder code YW266F and is a smooth matt finish.
How else has this colour benefitted the Atoll Shopping Centre?
Aluminium is the dominant construction material for the Atoll Shopping Centre and the way the metal has been perforated, dimensioned and shaped provides contrasting looks during the daytime and at night.  Over 20 tonnes of white Grazalema Interpon D2525 was used from the Interpon Futural Collection and this highly durable powder carries the Class 2 approval from Qualicoat.
There are over 51 different colours available in the Futural collection of colours that architects have specified in iconic buildings all over the world.
Superior Paint and Powder coating are long standing approved Interpon applicators across their entire range as well as members of Qualicoat and the Aluminium Finishing Association.  This ensure we coat our metal profiles to the highest standards to enable buildings such as the Atoll Shopping Centre in France to provide long service life.