Aluminium windows, doors and frames are designed for long service life which is why you will often see aluminium windows and doors installed in commercial buildings such as schools, hospitals, retail parks as well as aluminium windows installed in dwellings.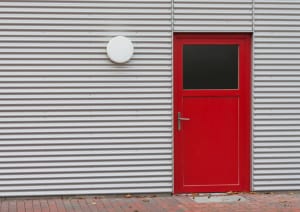 The obvious advantage of aluminium windows is that they are polyester powder coated. The powder coating process today is available with 15 year guarantees extending to 245 years or more depending upon the application.
A reputable and quality assured powder coater will ensure any painted extrusion will meet the guarantees required, but what do you do if windows and doors need repair?
Can you repair windows that have damage to their polyester powder coating?
Routine cleaning is very important with powder coated windows.  Whilst modern powder coating offers guarantees against weather, chlorine, bird droppings or other contaminants, routine cleaning is still necessary.
It is accepted that sometimes the design of buildings, particularly where high-rise windows are concerned or curtain walling that spans several floors is not always routinely cleaned.  Over time the powder coating may dull as a result of never been cleaned.
In domestic dwellings windows will often be better cleaned where window cleaners are used that clean the frames as well as the glass.
What can you do to repair powder coated frames?
Any powder coated window can be repaired but an initial inspection will be required.  Typical damage can be fading of the paint, damage caused by the aluminium windows being hit by objects or accidental damage that has chipped away the powder coating.
Very minor chips can be repaired with touch up paint provided by many powder coaters but as with any colour, the exact colour reference such as White RAL 9910 Gloss will need to be specified.  Whether the colour is gloss, satin or matt is very important as these shades do differ when seen side by side.
More extensive damage can be repaired by on site painting services such as those provide by Euro Site Finishers, part of the Superior Paint and Powder Coating Ltd.  Companies such as Euro Site Finishers are able to repair or completely respray damaged powder coated windows, doors, curtain walling or roof glazing.
It is important to note that the on site painting process is completely different from the process applied at a powder coating plant.  Powder coated extrusions are not wet painted, but typically on site they will use a wet paint process.  This is due to the site nature and the fact that small window sections are being painted and not complete bars.  Nonetheless the result is the same in that repaired or completely repainted windows are possible.
It is not just damage that call on companies such as Euro Site Finishers.
As commercial buildings change hands or have new occupiers, the corporate colour scheme may be completely different but the doors and windows are in excellent functioning conditions.  It is much more cost-effective should a company wish to change the colour of their windows and doors to use an on site powder coating supplier rather than go to the substantial extra expense of replacing windows and doors.
Superior Paint and Powder coating with Euro Site finishers offer an extensive on site powder coating and repair service and can assist with the touching up, repair or complete colour change requirements to any aluminium or metal fenestration products.