Dual colour windows and doors are now becoming very popular amongst homeowners and architects designing commercial buildings.  It is common for dark colours to be used on the outside of window frames with a contrasting or brighter colour internally.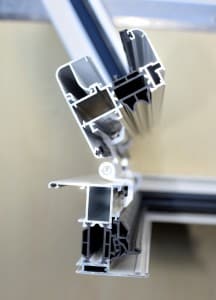 Whilst dual colour is becoming popular what consumers don't know is how different dual colour is compared to single colour powder coating.  In this article we will explain the painting process used to powder coat windows, doors and frames in contrasting colours.
How are dual colour windows painted?
Modern aluminium window and door profiles today comprise a "thermal break". This thermal break is constructed from thermally efficient and ultra strong polyamide and is the critical component that enables dual colour windows to be painted different colours inside and out.  Without the thermal break, this process would be much more complex and significantly more expensive.
A modern window frame today comprises 3 parts.  These are:
The external frame
The thermal break
The internal frame
Modern thermally broken profiles are bonded to the polyamide thermal break using sophisticated rolling technology.  The three components are placed in a specialist machine and rolled together to form on strong complete extrusion.
The difference painting process between single and dual colour windows.
The powder coating in a single colour is possible on a complete rolled extrusion.  When it is painted the thermal break will also be painted at the same time.  With dual colour windows and doors, the external profile is painted one colour, the internal profile is painted the second colour and only then are they rolled onto the thermal break to create the finished dual colour extrusion.
For this reason the lead times and painting process are completely different which is why dual colour powder coated windows are on a much longer lead time than single colour windows.  It is also important to remember that certain single colours such as black, grey, white or creams are popular and therefore viable to be held in stock reducing the lead times.
It is very hard to guess what dual colour a customer or client may choose therefore it is highly unlikely any dual colours are ever held in stock.  They will in the vast majority of cases be painted to order with no stock lengths of any particular colour held.  This is the main reason why the lead times are much longer.
However, an experienced window company working in conjunction with an expert polyester powder coater such as Superior Paint and Powder Coating will be able to explain the above process to the end user to help them understand why dual colour windows take longer to make and be installed than single colour windows.