Architects and homeowners are continuing to discover the advantages of powder coated aluminium.  This is mainly due to the sheer quantity and range of colours available.  We know that upvc and timber windows are of course available in a variety of colours, but these cannot be powder coated owing to the limitations of these materials.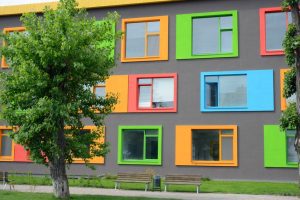 Powder coating has for many years been regarded as the superior finishing process to aluminium and metal windows compared to the wet paint process used in timber or the coloured foil process used in plastic windows.
The benefits of powder coat aluminium windows
The first advantage of the powder coating process is coverage.  Powder coating will cover every surface of the profile unlike foils which cannot coat the internal faces of window profiles, eurogrooves, and other elements found in a window frame.
Colour options are the next advantage.  Whilst it is common to see many different windows in white, grey or black there are hundreds of colours to choose from and this choice is even more with most colours having the option of being satin, matt or gloss.
Bill Singh, managing director of Superior Paint and Powder Coating says:
Polyester powder coating involves specialist polyester powders.  We use powders from the major global manufacturers to give variety, colour and choice.  But these colours are not just simple single shades.  Did yo know that there are over 12 shades of white, over 20 shades of grey and 5 shades of black. In order to ensure the right colour these have to be specified by reference.

The powder manufacturer will determine the reference. Interpon paints use RAL references, Syntha Pulvin powders use Syntha Pulvin References and there are also colour references referred to as BS. Generally each powder manufacturer will give an RAL, BS or Syntha Pulvin equivalent. For example RAL 9010 Interpon will closely match Syntha Pulvin Reference G1A0395.

Therefore if you are matching colours to windows or other products ensure your references are the same.
White is not just white!
Did you know that there are several types of white available?  The most common will be RAL 9910 Gloss and also RAL 9010 gloss.  These colours have over many years proved the most popular with homeowners in particular and are hugely popular and very widely used.
However there are way of giving a different dimension to a standard white finish. Choosing a matt white gives a softer effect to the brilliant gloss of RAL 9910 as these do not possess the gloss sheen and can give a more subtle look especially to large window frames.
Other options on white include:
RAL 9001 Cream
RAL 9002 Grey White
RAL 9006 white aluminium
RAL 9018 Papyrus White to name just a few of the options available.
What about other colours and textures?
Dual Colour is now available thanks to the changes in technology, window thermal efficiency and how modern extrusions are designed and produced.  It is now easy to have windows or doors that are different colours inside and out.
Textured and Metallic Colours have also advanced a great deal in recent years.  If you are looking for something with a tactile feel to the paint finish, modern polyester powder coating can give you a great range of metallic colours that have a texture to them and are brittle or abrasive to the touch. These textures also produce a very durable and strong paint finish.
Metallic colours are also now available for those who want that sparkle to their powder coated doors, windows, framing or curtain walling.  Silver, bronze, black, gold, grey and other metallic shades are also available.
The advantages of polyester powder coating today are clear but it is very important that any powder coated window or door is professionally powder coated by a quality assured and reputable polyester power coater.