Construction of new build property is split in to phases, one of the biggest milestones is making the shell weather proof.  This then enables internal and external fittings to be finished.  This naturally calls for doors and windows to be fitted quite early in the process, leaving the finished product susceptible damage from other trades people.  So what can be done to product the delicate powder coated windows during ongoing works.
How can you keep powder coated windows clean?
A lot thought goes into powder coated windows during the manufacturing process.  From the extrusion of the aluminium, the power coating process and the manufacturing and glazing of screens, doors, windows or curtain walling all are carried out with precision and care.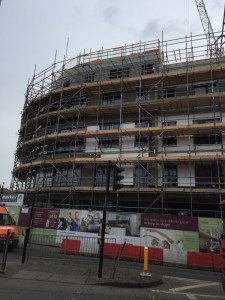 Architects and building designers use powder coated aluminium for the longevity powder coating provides and the various guarantees depending upon where aluminium powder coated windows are installed.
Therefore it is important to look after your powder coated windows.
Where your windows are located can determine how long they last.
Many buildings have canopies, gables, barrel vault roofs and other features designed to protect covered walkways or shelter areas of the building.  What you may not know is that these areas can affect the finish of your powder coated windows.
Covered areas such as these are still exposed to the air borne contaminants, however because they are sheltered they may not get the rainfall needed to clean away such pollutants.  It is therefore important to ensure that windows in these areas are cleaned often.
Protecting windows on construction sites
It is often the case that powder coated windows installed as part of the overall sealing of a building will be provided on site with low tack tape protection.  It is very important to keep this tape on the windows until the last possible moment.
Other trades such as plasterers can soil the windows therefore keeping them routinely clean and removing the protective tape as late as possible will ensure the new powder coated finish is not damaged.
Routine cleaning however is the best protection for any powder coated product installed on a construction site.  Ensure you make the Site Manager aware that the paint finish can be damaged so that no problems occur after they have been installed.
What should be considered with powder coated windows?
We recommend that you maintain a regular programme of cleaning the windows on the construction site.  Materials such as  concrete, plaster and paint splashes should be removed as soon as possible and before they have a chance to dry avoiding damage to the powder coated finish. A warm water and mild detergent is sufficient and ideal.