The modern powder coating process is very advanced and is regarded in construction, building and other manufacturing sectors as one of the most advanced ways of finishing and colouring aluminium.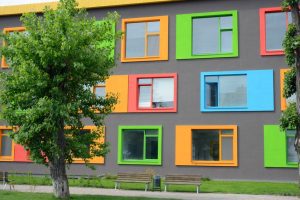 One of the main advantages of the powder coating process is the huge range of colours that are available. Powder coating aluminium windows and doors results in a consistent, uniform and high quality finish.
These finishes can be specified in a wide variety of textures, shades and colours.
Why is powder coating so popular?
With polyester powder coating now being the most common way of painting aluminium extrusions and components not only is it cheaper and more durable than the wet paint process but it also offers other advantages.
It is highly durable and provides long service life
Aluminium left untreated will corrode – powder coating protects aluminium
It actually has good levels of impact resistance
It is attractive
It is environmentally friendly.
But did you know that the powder coating process is also useful for hiding material imperfections? Not every aluminium extrusion will be perfect and often you will see "die lines" from where the extrusion was produced from the aluminium billet at source.
These imperfections can be hidden with a high quality polyester powder coating meaning there is less waste and extrusions can by and large be used even though they may hide minor imperfections underneath the paint finish.
Quality Standards of powder coating are important
It is absolutely essential that a certified, approved and quality assured powder coating company is used for the finishing of architectural aluminium extrusions.  But before this can happen, aluminium extrusions must meet the relevant standards for the material itself.  Alloys must meet BS 1474, 1470 or BS1471 as well as other metal standards. These include the aluminium alloy being compliant with 6063 or 6060 T6 complying with the recommendations of BS EN 755-9:2001.
All these high quality aluminium alloys call on expert powder coating.  It is important to ensure your powder coater meets the required professional standards from Qualicoat, The Aluminium Finishing Association and other professional bodies.
The primary surfaces on aluminium extrusions are the "seen faces".  Therefore these must meet the required 50-80 microns paint thickness, the powder sourced from one of the approved powder manufacturers and coated to the required standards.
Superior Paint and Powder Coating are member of the required professional bodies as well as quality assured.  Therefore we are best placed to help you with any technical, finishing or  specification questions you may have about powder coating and metal finishing.