During the life of any building, the exterior will be subjected and exposed to all kinds of weather, contaminants and pollution. Whilst powder coating, correctly applied by a Qualicoat applicator will be subject to long guarantees, one of the other reasons for the fading of powder coat finishes on older buildings is also lack of routine cleaning.
Curtain Walling and Window repair and refurbishment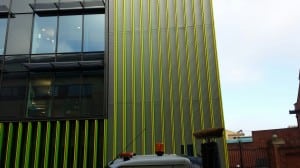 The polyester powder coating process has been around for over forty years. It is by far the most commonly used method of finishing the exterior of most commercial buildings. Residentially, powder coating is also the most popular way of finishing domestic windows and doors.
If you occupy an older building and the powder coat finish is starting to fade, it is possible to repaint and repair the paint finish. There may also be other reasons for wanting to repair or change the colour of your powder coated aluminium. Examples include
– Your company may be undergoing rebranding
– Your building may need renovation
– You simply want to keep your business premises looking as good as possible.
To replace windows or curtain walling with new products in a different colour is costly and especially if your framework is functional, secure, weathertight and otherwise sound. If this is the case, there is good reason to consider the services of an on site powder coating company.
Small shops, retail parks, shopping centres, guttering and cladding can all be repainted on site at substantially less cost or disruption than complete replacement.
Therefore it is important to use the services of a professional on site powder coating and painting company that has the skills, equipment and importantly the certification and accreditation to carry out this type of work.
Eurosite Finishers Ltd are the sister company of Superior Paint and Powder coating and have been refurbishing the exterior of commercial and other buildings for many years.
Using the latest spray painting technology for on site repair, staff is specially trained and carries all the necessary certification such as CSCS Cards and CHAS accreditation.
 The Advantages of onsite painting and powder coating.
There are many good reasons why utilising the services of a professional and expert onsite powder coating and repair firm can benefit your building and your business. These are:
Improved building appearance helping you to retain your professional and positive image of a business that is doing well.
With over 200 colours and finishes available the choice is limitless Ongoing protection of the surface metal underneath the paint finish. It can also repair and protect existing damage.
It will retain the value of your property and is far cheaper than complete window replacements.
If your building was constructed more than 20 years ago you can now benefit from extended paint guarantees.
An easy process with minimal disruption meaning you can continue working as normal.
If your building is currently in need of any kind of paint refurbishment or repair, contact us to find out how we can help bring new life to your office or business premises.