Powder coating has been used in the coating and finishing of aluminium and other metals for over forty years.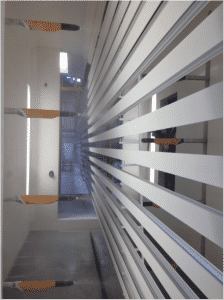 Many consider powder coating as a mature market, however ongoing advancements in finishing, powder coating application and new powder coating plant technology all ensures that powder coating can continue to innovate.
Powder coating is constantly evolving.
One new advancement is new chemical solutions for improved conductivity and transfer of colour. This means that powder coaters can now use all the advantages of powder coating technology on new and of unique substrates.
Professional bodies and organisations report that powder coating is growing faster as an industry than other types of surface finishing technologies and again this is largely due to the ongoing investment in new processes and technology. Machinery manufacturers such as Gemma and the powder manufacturers themselves, all work together to make the application and use of powder coating a developing and growth market.
Recent new innovations in powder coating technology include:
Polyester powder on plastics
Coating of mdf materials
Advancements in steel and aluminium
Powder coating technology will soon be able to coat better and faster.
The list of substrates that powder can be used on is growing meaning more and more materials will benefit in the future from powder coating technology.
High temperatures are typically used to ensure that the polyester powder bonds and applies itself correctly to the material. Developments in material are also taking place that enable low temperature cure powders to be used as well as bio-based polymer systems.
Other innovations include low velocity but high density applications and machinery that is able to deliver more powder with less air and waste. This is important for future development because a quality finish that results in a consistent powder thickness across the entire extrusion, coupled with improved quality and less cost is key.
Robotic application of powder coating has been available for a numb er of years already, but as technology improves this kind of robotic powder coating machinery is getting cheaper to buy. Additionally the software used to operate such machines is getting simpler to use.
To ensure better transfer of powder across a wider range of material, advancements in technology now mean forward thinking and innovative powder coating companies can coat more and more materials. Infra red technology is also being used in the curing process.
Therefore the many advances being introduced and improved for the application of polyester powder coatings demonstrates that powder coating is a mature yet development market that will continue to grow in the future.