Look at any older building that has powder coated aluminium windows and doors installed more than 20 years ago and it is common to notice a fading on the powder coated finish.  Why does powder coating fade, and what can you do about it?
Why does powder coated aluminium fade?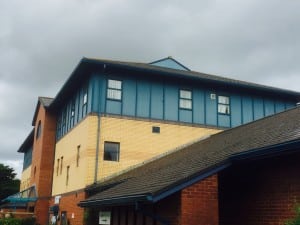 Exposure to the elements is the main reason polyester powder coated finishes can fade.  Ultra Violet rays, city centre environments and many other factors over time play a part in why the powder coated finish found in the vast majority of aluminium windows and doors can fade.
There are certain colours like blue and red that will fade more than others in the same way you will often see discolouration on the roof and bonnets of red vehicles as one example
Routine cleaning and care is one way to prevent the fading of painted aluminium and often this is simply not done or not carried out often enough.  A typical powder coating guarantee will state that routine cleaning has to be carried out every 12 months in non harsh environments and more frequently in harsher environments.  We know many homeowners, commercial building owners and occupiers, whilst focusing on keeping the glass with their windows clean, often will not give the same care and attention to their window frames.
Window frames should be kept routinely clean
In exposed environments such as city centres, those with pollutants in the air, coastal environments and so forth routine cleaning should be carried out every three to six months. This is one way to help prevent the fading of powder coated aluminium.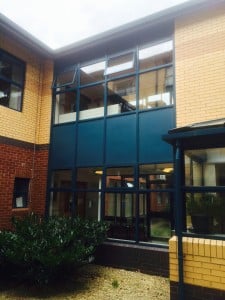 The quality of the pigments used in the powder coating process also needs to be right, but with any quality powder coating firm and assuming the correct powders, pretreatment methods and of course, powder coating itself can all help.
So our advice is to exercise the same care and attention to your powder coated aluminium window frames as you would to your glass and you should be able to preserve the powder coated finish on your windows for longer.
Extensive guarantees of up to 40 years are available with some powders and finishes however even powder coated windows offered with this extended guarantee will uniformly degrade by a certain number of units over a given period of time in a non hazardous environment.
If you would like further information on how to protect your powder coated aluminium windows into the future and how we powder coat aluminium generally, please contact us.