One of the major advantages of polyester powder coating is its long service life, colour availability, resistance to external elements and its long term performance.
However for powder coating to last as long as marketed, it is important that it is coated by an experienced and expert applicator.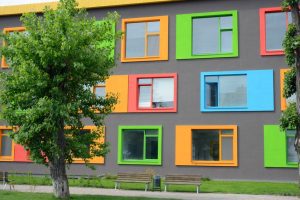 Meeting recognised and industry standards is very important in the pretreatment and coating of any metal for construction. Whilst there are many companies that offer powder coating services, not all are accredited and approved.
Why standards in powder coating matter.
A quality assured powder coating company is your guarantee that your painted aluminium extrusions will be provided correctly finished, and importantly come with the guarantees of performance demanded by architects and specifiers.
Superior Paint and Powder Coating offer powder coated aluminium extrusions that depending on the individual building or construction specification can meet many industry standards. These include:
Qualicoat
Superior Paint and Powder Coating is an approved Qualicoat applicator enabling us to provide extrusions coated in accordance with Qualicoat requirements.
Qualicoat is your guarantee of quality. Strict guidelines exist in relation to paint formulation, the pretreatment process, the correct use of chemicals and equipment and of course the quality of the finished product.
Qualicoat applicators are your assurance that your high quality powder coated aluminium will last for many years into the future.
BS6496 for Paint and Powder Coating.
The recognised British Standard for paint and powder coating is BS6496. This sets the standards for:
Specification for powder organic coatings
Covers the requirements for coatings before and after their application.
Specifies the pretreatment of the aluminium alloys.
BS EN 12206 – Paints and varnishes.
This standard sets the requirements for the Coating of aluminium and aluminium alloys for architectural purposes.
It is separated into Part 1 covering "Coatings prepared from coating powder" and gives the standards relating to organic coating of aluminium and aluminium alloy
extrusions, sheet and pre-formed sections for architectural purposes, using exclusively powder coating materials.
The above are just some of the standards in place and adhered to by professional powder coating firms. It is important to always use the services of an accredited, inspected and approved applicator for all powder coating used in construction.