The powder coating process is one that has been in place in construction for over 40 years.  Powder coating is also extensively used to colour other products as well.  Consumer goods, materials used in the automotive and transport industry and any other metal product all benefits from the advantages of powder coating.
Powder coating is a clean process, offers extensive colour choice, durability, protection from external elements and much more besides.
What are the disadvantages of polyester powder coating.
No product can be 100% suitable for every application. Every process has it's advantages and disadvantages.  The same can apply to powder coatings, so are there any disadvantages to the powder coating process?
Powder coating may be unsuitable for thin films.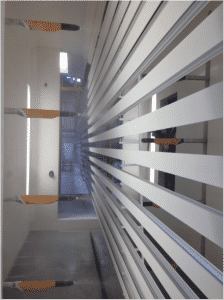 A suitable coating in polyester powder is measure by microns. The average thickness for a quality powder coating is between 40 and 60 microns. Powder coating is unsuitable where very thin films are required.  This is quite hard to obtain with powder coating.  For finishing processes requiring a film thickness of µ25 microns,  wet paint systems may be more favourable. It should be considered however that thicker powders are more durable and often more economic.
Colour change is slower with powder coatings.
This applies to machinery used to apply colour. Bearing in mind the vast choice of colour shade available, coating machinery has to undergo 'colour change' where  the machinery is cleaned from previously coating one colour to being prepared to coat in another. Where industries use multiple colours, colour change is generally slower with the powder coating process.  This is because the cleaning and preparation of paint booths can be extensive to avoid cross contamination and correct colour application.
Colour change can be carried out faster with liquid paints than with powders. It should be borne in mind that technology in powder coating machinery and techniques continues to make this process faster.
So this 'disadvantage' really only applies to applicators rather than end users.
Powders cannot be mixed
We are all familiar with wet paints whereby colours can be mixed together to create a completely new colour.  The powder coating process does not allow for the mixing of polyester powders to obtain different colours.  The powder coating industry has overcome this perceived disadvantage of polyester powder coating and the dry process already.  This is because there are already hundreds of polyester powder colours designed to match to existing and specific shades.  Powder manufacturers are also innovating constantly bringing out new and innovative colours and shades.
Powder coating really has no disadvantages.
Other than the above examples that apply to the manufacturing process rather than the end user and final application, powder coating does not have any major drawbacks. The above areas where powder coating may be unsuitable are the exception rather than the norm.  Polyester powder coating continues to offer huge colour choice, colour fastness, durability, a clean and VOC free application and more besides.
If you'd like any information on how Superior Paint and Powder Coating can assist your business with our range of finishing services, please contact us.