At Superior Paint and Powder Coating, we work with all types of companies in the construction sector.
With construction programmes often running to tight schedules, it's vital for all businesses involved in the supply chain to work together ensuring builds are completed on time.  This avoids additional costs and delays for all parties.
Superior Coatings Working with leading Fenestration Specialists.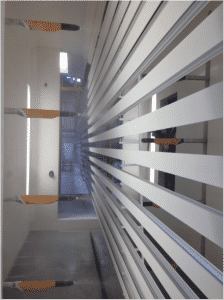 One of the many companies we work with is leading Daylight Systems Provider, Brett Martin.
Brett Martin are industry specialists in the provision of all types of daylight roof structures. Their portfolio includes precision engineered glazed roofs designed and installed in some well known buildings.  Examples include Wembley Stadium, Old Trafford and leading hospitals, schools and infrastructure buildings.
We are delighted to work with Brett Martin, powder coating their range of products.
Short lead times on powder coated aluminium extrusions.
We are often called upon to powder coat all types of architectural aluminium systems in short lead times.
In considering the construction project, powder coaters play a very important role in the overall supply chain. In working with a specialist powder coater that can perform to tight deadlines and short when required, the whole construction process benefits. When the powder coating process is complete:
Material arrives on or before schedule
Fabricators can start manufacturing glazed structures, windows and curtain walling.
Faster fabrication means a quicker presence on site.
All sub contractors work to the site programme.
A fast turnaround mean any errors can also be quickly rectified.
Powder coaters paint more than just windows and doors in a building.
Reliable service brings customer loyalty.
Superior win Exceptional Service Award for our Short Lead Times.
Brett Martin awarded Superior Paint and Powder coating an Exceptional Service Award in recognition of our short lead times. Not only did Brett Martin benefit from our 1st Class service in powder coating their materials, but in turn Brett Martin benefitted by providing the same great service to their own clients.
All of this proves that in construction, all trades have to work in partnership together for all round client satisfaction.
If you'd like to benefit from our Qualicoat Approved powder coating services and exceptional lead times, please contact us.