Superior Paint and Powder coating offer a range of services in addition to our quality polyester powder coating and finishing.
Superior Paint and Powder Coating. The complete finishing solution.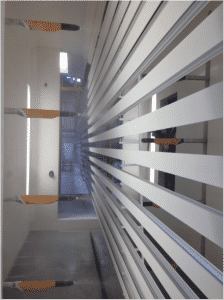 Our additional service for architectural aluminium extrusions, aluminium pressings and other metal products provides fabricators, installers and construction companies with a complete solution if required.
Paint Stripping and Re-coating service.
There may be situations where powder coated material requires stripping and re-coating. Examples include coloured stock aluminium that is surplus to requirements or aluminium extrusions that were specified in the wrong colour and need correcting.
Stripping and Recoating involves several stages to remove unwanted paint and other finishes. Our specialised process ensures old paint is removed without harming the aluminium. Subject to the finish a paint warranty in accordance with the RAL shade can still be offered after the metal has been stripped and re-coated.
Protective taping of aluminium extrusions.
There are many advantages to protecting finished aluminium with a quality low tack tape.
Taping protects the aluminium extrusions on their primary surfaces seen by the end user client. There are also requirements to protect powder coated aluminium while it is being cut, machined and fabricated. Finally, taping is necessary to protect the finished aluminium window when it is installed on site from other trades such as plastering, decorating and external cladding.
By choosing to have your powder coater tape protect your powder coated aluminium extrusions, you can save time and money by utilising your staff in other operations. We offer a full range of low tack tapes to suit the different sized extrusions available as well as different colour tape for easy identification.
Cutting, machining and drilling.
There may be requirements for your sheet metal or extrusions to be drilled or prepared for other uses and fabrication needs. Talk to us to see if we can simplify your production processes by carrying out some of these operations in-house.
Packaging and Delivery.
Every client is different, fabricating a vast range of aluminium and other metal extrusions, profiles and parts.
At Superior Paint and Powder coating, we take expert care in ensuring your powder coated material arrives in excellent condition, fully protected during transportation.
If you have any specific requirements as to how you wish to receive your metal, contact us. We also operate a nationwide delivery service on set days for your area, or we can arrange special deliveries to meet your requirements.
On-Site repair
Superior can help with any on-site painting requirements. Whether a corporate colour needs changing or paint finishes are damaged through wear and tear or abuse, we can help.
Technical Support and Specification advice.
Aluminium is now used more than ever before in a residential setting. Commercial buildings are becoming ever more complex, cost-conscious and energy-efficient in their design. If you require any specialist advice to help you specify powder coatings better, Superior have many decades of experience.
Talk to us about limited paint warranties, marine coatings, chlorine protection and the protection offered by differing gloss levels.
We can even help you create the right specification for projects out to tender.