At Superior Paint and Powder coating, we colour and treat aluminium extrusions that end up in many different buildings. Powder coated aluminium is not just for windows and doors. There are aluminium pressings, column cladding, specialist extrusions for interior or exterior use as well.
One of the advantages of polyester powder coating is the superior protection it provides from weather, sunlight and simply being exposed to the elements. In order to specify the right level of protection for an aluminium profile, different 'Classes' of powder are specified.
What is a Class of Polyester Powder?
Architects and building specifiers have the option to choose a Class of powder. The class is evaluated by Qualicoat, the leading organisation for the correct specification of colour and powders. The class level for powder is determined by its ability to resist weather. The better the resistance the better the class of powder.
Weathering of a polyester powder finish comes down to how well it resists the effect of light such as intense sun, temperature and intensity.
What determines the best class of powder?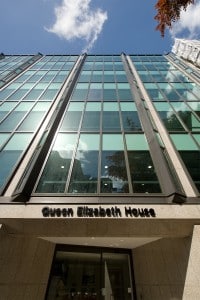 In order to determine the correct class of polyester powder to specify, it is important to consider the location of the building. A building in a coastal location is likely to endure far more severe weather than a city centre. Buildings in high-temperature countries such as the Middle East will also have a higher class of powder specified.
How the building is used as well as the colour choice, shade and aesthetic required are also relevant.
In recent years the requirement for buildings to offer a longer service life and reduced maintenance costs has become very important. One of these is the aluminium windows, doors, curtain walling and other external aluminium components. The specification of higher class powders is now commonplace to ensure the highest level of performance throughout the life of a building.
What Classes of polyester powders are available?
There are several classes of powder that still use the same section pre-treatment as well as the same powder coating lines and machinery. We can therefore polyester powder coat your aluminium parts with no disruption to our normal operations. We use the latest Gema powder coating booths with sophisticated pre-treatment processes beforehand.
Class 1 Powders.
Class 1 offers an economic way to provide excellent service life to powder coated aluminium. It is the most common used and offers the standard commercial guarantee. This warranty varies upon whether the shade is satin, matt or gloss.
Class 2 Powders.
Class 2 offers better colour and gloss protection. We find Class 2 powders specified in high-end and landmark buildings, especially in major cities. Class 2 powders are also referred to as 'Superdurables' and is more expensive than Class 1.
Class 3 Powders.
Class 3 powders are the most expensive type formulated with 'fluoropolymers'. These can offer exceptional weathering performance similar to the PVDF wet paint finish (used in extreme climates such as Dubai).
Contact us for specialist advice about polyester powder coating.
At Superior Paint and Powder Coating, we have many years experience in the specialist finishing of architectural aluminium. We can help you specify the correct powder for your construction project, explaining the various cost to benefit ratios of each class of polyester powder.
Contact us today for information and advice on the vast colours and range of powder coated services offered, all in accordance with Qualicoat and other recognised industry standards.