When specifying or buying powder-coated aluminium extrusions for architecture, it's the class of powder coating affecting how long the surface finish lasts on a window, door or curtain walling screen. The class of powder coating provides a standard relating to the weathering ability This means the period of time passing between the original colour and the fading seen on older installations of powder-coated aluminium.
Here, we give some background about the coloured aluminium you see on commercial buildings and how specifying a higher class of powder coating can give more resistance to fading from lack of cleaning or exposure to external elements.
Some background to the class of powder coating on buildings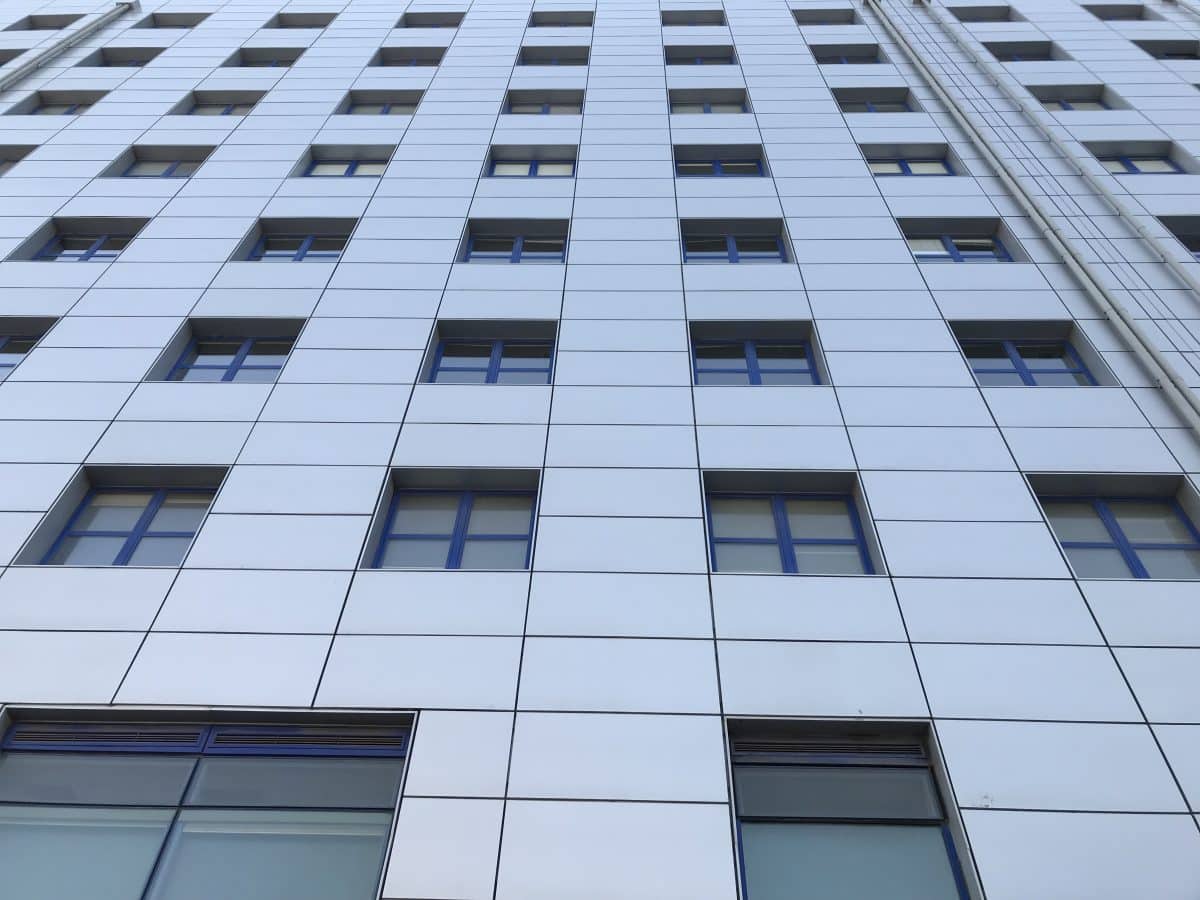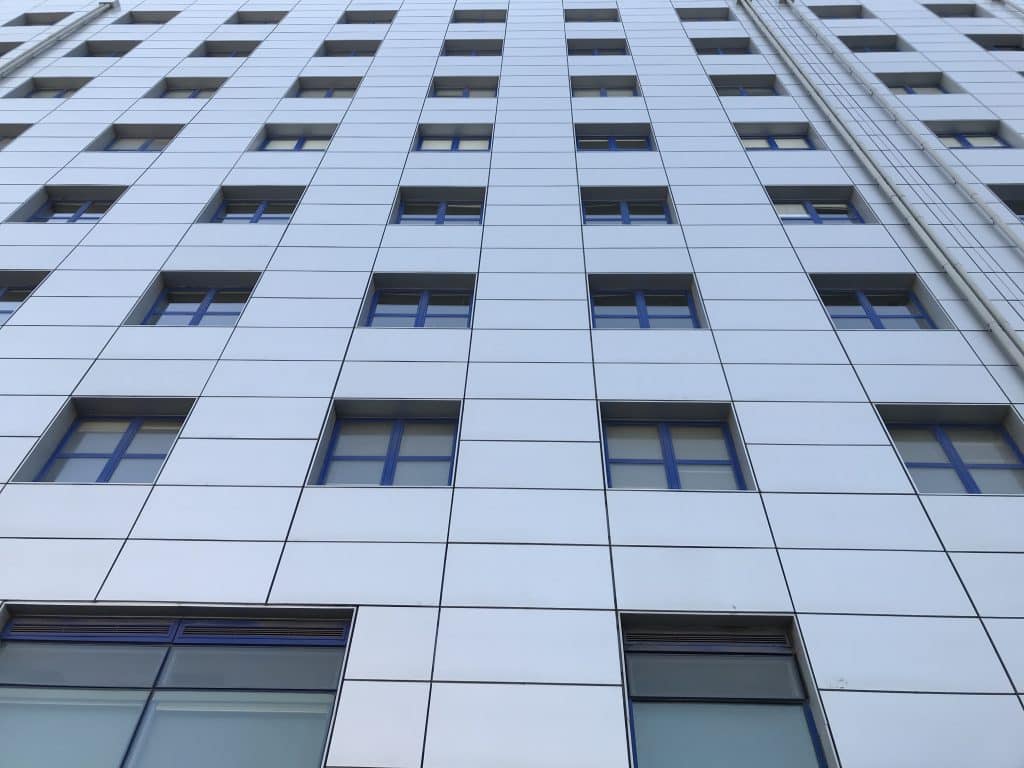 Since the introduction of powder coating in the 1960s, its purpose is providing a colour finish to aluminium in architecture, but its other key role is providing protection to the bare metal underneath.
Standards organisations such as QUALICOAT in the UK and Europe, continue to improve and amend their published standards giving powder coating businesses like us at Superior ongoing information about how to pretreat and coat aluminium extrusions as well as strive to improve our quality processes. Superior remain members of QUALICOAT providing quality assured powder coating services to construction and fenestration, always providing a high standard of finishes. For powder-coated profiles in architecture, the best service life comes from a professionally applied finish.
Such are the ongoing changes to standards in powder-coated finishes, that the latest QUALICOAT standard now specifies that even the aluminium has to be a specific quality and new pretreatments such as pre-anodising are further examples of striving towards even more durable surface finishes, lasting even longer.
All aluminium powder coated finishes weather over time
The truth is, that exposed buildings with powder coated windows, doors, curtain walling or cladding are likely to fade due to weathering. And despite some powder coating warranties stipulating a routine cleaning schedule, the reality is, some buildings rarely have their exterior powder coatings cleaned. One only needs to look at developments of retail parks or industrial estates in the 1980s and 1990s to now see otherwise functional buildings having faded coatings on their glazing systems.
The good news is, that even these faded powder coated finishes are still doing their job of protecting the bare aluminium underneath when also professionally applied using Qualicoat or other standards.
The class of powder coating specified with a building is one way of giving longer service life to powder-coated aluminium. And for many older installations, the class of powder coating specified was usually 'Class 1' powders. Here's an explanation of how these differ, taken from the Qualicoat standard:
Class 1 powders:
After twelve months exposure, less than 50% loss of gloss, and colour change between 2 and 6 delta units (subject to the colour). This pass criterion is commonly known as '1 year Florida'.
Class 2 powders:
After twelve months exposure, less than 25% loss of gloss, after twenty-four months, less than 40% loss of gloss and after thirty-six months, less than 50% loss of gloss. After threeyears colour change 2 to 6 delta units, dependent on colour. This testing criterion is commonly known as '3 year Florida'
Class 3 powders:
After three years, less than 20% loss of gloss, after seven years less than 45% loss of gloss and after ten years less than 50% loss of gloss – or commonly known as '10 year Florida'.
For architects and building specifiers, the higher class of powder coating specified, the better the colour consistency and weathering over time.
What's the best class of powder coating to specify?
Class 1 remains perfectly acceptable when it comes to specifying powder coated colours for architectural aluminium. However, specifying 'Class 2' will provide more weathering protection. Adding further clauses to building specifications such as QUALICOAT Approved is also recommended to get the highest quality of coating on your building. 'Class 3' is the longest, used on buildings in extreme environments such as hotter countries.
There are situations where mistakes in window and door fabrication can mean some manufacturers rely on local powder coaters and even car body paint shops to re-coat damaged or replacement materials in order to save time. Whilst the rationale behind this is understood, for end-users it won't provide the same level of protection.
Even with a correctly specified powder-coated finish, routine cleaning is the best way of ensuring the longest possible service life from painted extrusions. Cleaning is also the best way of giving protection to building users in the event of a warranty claim against the powder-coated finish and applicators will usually want to see evidence of a cleaning and maintenance schedule.
Get quality powder coated metals with first class service from Superior
You can get in touch with us to help you understand better how the class of powder coating you specify affects the long-term performance of your building project.
At Superior Paint and Powder coating, we serve aluminium systems companies, window manufacturers and the wider construction trade with high quality powder coating services. We are proud to be members of the leading aluminium and powder coating associations promising the highest standards of colour and quality. Contact us to discuss your project or profile painting requirements, get a quote and our current lead times.