Interpon Akzo Nobel is a global company manufacturing coatings and chemicals.  With operations in over 80 counties and employing over 50000 people, it is ranked as the world's largest coatings company.  For more than forty years, Interpon powder coatings have been used in construction projects throughout the world such as: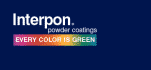 The Olympic Stadium Beijng, Georges Pompidou Centre Paris, Lloyds Building London and many others internationally.
The coating technologies offered by Akzo Nobel are marketed under the Interpon Brand name.
Interpon provides polyester powder and other coatings for architectural aluminium extrusions, steel, automotive industries, IT and General Industrial uses. In the architectural aluminium powder coating sector, Interpon is very well known for its Interpon and Interpon D ranges.  These offer highest quality polyester powders to meet the needs of national and international powder coating specifications and requirements.
The Interpon D range comprises three series of powders and coatings.
Interpon D1000 Series
These comprise standard durability polyester powders recommended for internal applications or for external powder coating under normal weathering conditions. A guarantee of up to 10 years is available for external applications.
Interpon D2000 Series
A range of higher performance TGIC-Free polyester powders that are intended to give superior exterior protection on external applications in buildings.  The D2000 series is ideal for architectural, technical and aesthetic applications. A guarantee of up to 15 years is available for external applications.
Interpon D3000 Series
D300 series is latest generation  "Hyper Durable" powders that use fluorocarbon polymer chemistry to provide the highest standards of durabilty in exterior applications. A guarantee of up to 20 years is offered for exterior applications.
You will know Interpon paints from the popular RAL references such as RAL 9910 gloss for many white power coated extrusions. There are presently 180 RAL colours including Gloss, Satins and Matt finishes that further extend the choice.
Additionally there is Collection Futura that offers tactile textures and metallic effects.
The IMAGE-IN range is for sublimated profiles where wood effects or other finishes are required.  The sublimation process is so refined that it is hard to tell whether the product is wood or metal!
Superior Paint and Powder Coating are long established Approved Interpon D Applicators.  We undergo strict inspections by AkzoNobel technicians to ensure our standards of powder coating, traceability and overall quality of finishing meet the stringent standards of our powder supplier.
You can download each of the product technical sheets below: