The pretreatment of aluminium extrusions is vital to ensure the highest quality paint finish on the extrusion or component.
The powder coating process requires the best possible pretreatment of sections to make sure that the powder has best possible adhesion onto the metal. A quality paint finish can only be achieved upon maximum adhesion of the powder and effective pretreatment helps to ensure this happens.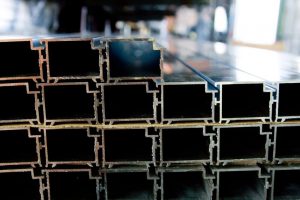 The Pretreatment Process:
Cleaning.
This is the first stage of the pre-treatment process and important. It is imperative that the component to be powder coated is thoroughly cleaned at this stage as dirty material will result in lower quality paint finish.
A typical way of cleaning the component is with the immersion cleaning process in an acid etch cleaning solution.
Rinsing
Rinsing of the components to be powder coated is carried out using a rinse typically at the same temperature as the cleaning process before. This is normally a rinse process using clean water.
Chromate Pretreatment
The chromate process is widely used in polyester powder coating and it comprises a chrome phosphate process. The chromatin process ensures the best surface is available prior to polyester powder coating.
The  process ensures that material has the best surface treatment to attain optimum corrosion resistance and helps the bonding process of the subsequent polyester powder coating.
Second Rinse.
A second rinse is carried out after the chromate treatment.
The Third Rinse Process
This process comprises another towns water rinse.
Final Rinsing process.
This process is a demineralised water rinse.  This rinse has had all the contaminants removed and is a pure water rinse to ensure that the surface is absolutely clean prior to polyester powder coating.
Drying.
The drying process is relatively quick achieving a metal temperature of not exceeding 80 degrees Celcius.
Between all of the above stages is a period of time referred to as the "drain zone" that enables material for powder coating to be carried from one cleaning process to the next but still allowing material to remain wet enough between stages.